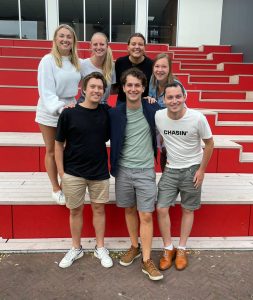 Dear new Master students,
To guarantee an amazing start of your master's program at the Faculty of Science at the VU University, the master introduction committee of the faculty association Gyrinus natans has organized two introduction days for you. These will take place on Thursday the 2nd and Friday the 3rd of September and will be filled with multiple activities.
Masters that are applicable:– Management, Policy-Analysis and Entrepreneurship in the Health and Life Sciences (MPA)– Biomedical Sciences– Biomolecular Sciences– Global Health– Ecology
Who are we?
We are Elise, Lars, Lieke, Lisa, Luuk, Jim, Julia, Marjolein and Wouter and we are enthusiastic (upcoming) master students, who are willing to give you an opportunity to get to know each other and the VU, even in these strange times.
How do I sign up?
You can sign up using this link: https://forms.gle/z5KjkkLXHRXZDqWP9
Due to the many registrations, registration for the introduction program closes today (24-08-2021)
Program
Unfortunately, during the strange times, our program might be subject to changes when the measures regarding corona change.
Thursday 2nd
– Faculty Introduction (organized by the VU)
– City Walk
– Dinner
– Pub Quiz & Karaoke or Silent Disco
Friday 3rd
– Artis
– Canoeing
– BBQ
If you have any questions you can send an email to masters@gyrinus.nl
Kind regards,
The Master introduction committee
Elise Ho-Meau-Long, Lars Lemmens, Lieke Schouten, Lisa Conzemius, Luuk de Jongh, Jim Hagemann, Julia Zinger, Marjolein Hortensius and Wouter de Jonge