The Introduction Days are organized through a combined effort of the VU Central Introduction Committee and the Introduction Committee (called 'The Introduxie') of study association Gyrinus natans. The Introduxie consists of 5 members who coordinate the Mentors, Mediateam, Bar Crew, Cooking Crew and Mastermentors to put together the best start of your new studies.
Introduxie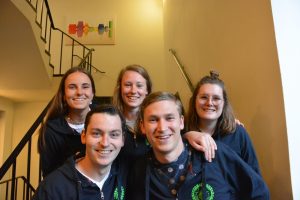 Hey guys, we are this year's Introduxion! Yes thats right, Introduxion, with a 'x'. We have been working very hard over the past few months to prepare the awesome introduction week of this year! We will try to keep an eye on everything and every person during this week, so that everything runs smoothly without any trouble. So thats why you will see us once in a while, but most of the time we will be on the background, hidden in the amazing buildings of the VU.
So who are we? The georgeous people on the picture are, as you might have expected, this year's Introduxion. On the far left we have Britt. She is one of the two mentor trainers and has educated your parents to be one hell of a mother or father, just so that you have the most awesome week
of your life! The lady next to her is Marjolein. She is the secretary of our team. She managed to answer all your emails and send all the letters you needed. Quiet impressive, right? Lars is the guy in the front on the left. He is the chairman of the Introduxion. He tries to keep the rest of his team under control, but unfortunately, thats harder then it seems. At his right, there's Wouter. He is the treasurer of the team. So if you see him, you can try to ask for more money. But he's quiet strict, so it won't be easy! Last but not least, on the right, we have Lieve. She is the other mentor trainer of this year. Together with Britt, she is in control of your lovely parents and has done everything to raise them as excellent parents.
Now that we've introduced ourself, we only can say one more thing: have the time of your life; enjoy the people, enjoy the activities, enjoy Amsterdam en most important: enjoy yourself!
The Mediateam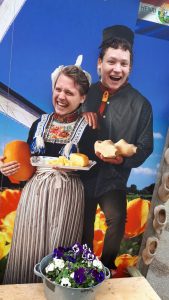 Hello, we are the mediateam. We are responsible for letting all the freshmen shine in the picture! We'll make the pictures and videos of everybody during the introduction days for BMS and Biology. Hereby we'll introduce ourselves!
Sam is a seventh years student studying his Ecology Master. After 4 years of mentor and a year of being a member of the Barcrew, it was time to fulfil his lifelong dream, Mediateam! He likes to make the nicest picture of all the beautiful girls, but if the guys are really nice, he'll make some pictures of them as well.
The other member of the mediateam is Ruben. He is a sixth year student, studying his Medicin bachelor. He has been mentor for two years, Barcrew and IntroduXie, but everything he ever wanted was to be member of the Mediateam and this year is finally his year. In the mornings you'll probably not see him that often, but he'll make the nicest pictures of you until deep into the night.
Their motto for the week is: enjoy this week to the fullest. You will remember these days forever. Make friends, make a party and let a picture taken of you!
Barploeg
Hi guys, we're the bar team. You'll see us eve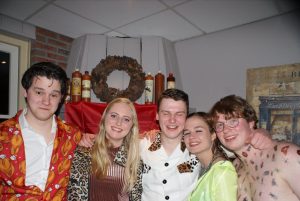 ry now and then during the introduction week, but our biggest responsibility is keeping the bar going during the entire introduction camp! We're not limited to beer either, we also have a coladar (cola radar) which tells us exactly when someone needs a cola (or water).
But who are we? On the far left in the picture you see Auke. Although his suit might suggest otherwise, he hardly ever chickens out. In fact, Auke has got plenty of stage presence! The beautiful lady next to him is Marjolein, our great leader. She certainly knows her way around a bar, making her a fantastic asset in our mission to keep the beer flowing smoothly. Next there's Thijs. As you can see, he lives his life with his eyes wide shut. He does this to hone his other senses, because parties are usually quite dark anyway. Then there's our second beautiful lady: Xanne. She's come back to the Netherlands to be part of the bar team. Such dedication! Usually she's living la dolce vita down south in Italy, so watch out, she might have picked up some Italian temperament there! Last but not least there's Sander. This friendly fellow is always cheerful and can turn any situation into a party in no time. He's a guarantee for fun!
Well, that's us in short. You can get to know us better during the introduction, we're looking forward to it!
The cooking squad
We are the Cooking Squad 2019! We will provide some lunches during the Introduction Week and are responsible for your full bellies at the a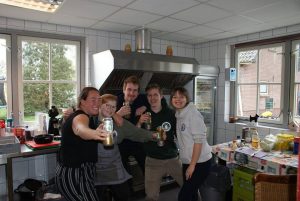 wesome Introduction Camp.
But don't worry; we won't be stuck in our kitchen all week. You will definitely see us throughout the Week, especially at the parties!
Let us introduce ourselves:
– Our chairman, Sietse, is our rock. Cooking is one of his hobbies, and damn he is good! With him in the squad, you can expect exquisite meals.
– Tinka is very small but don't underestimate her expertise. She has mastered cooking with one hand, as the other is always occupied with holding a beer.
– Lotte, our travelgirl, puts her cooking squad experience from last year to use to bring our cooking magic to a whole new level. It is always a party with her in the kitchen!
– Suzanne has 3 years mentor experience and has now chosen the Cooking Squad path. Alcohol makes her a little clumsy, but with the help of her Squad no desserts will be mixed up.
– And last but not least: Patrick is the most active freshman of Gyrinus and has shown some serious cooking skills! Plus, he cleans, what else do you want from a man?
We are looking forward to meeting you and to creating a delicious Introduction Week!
The Mastermentors
Just as the bachelor introduction, Gyrinus has also a committee that organizes the introduction for new master students. This committee consists of six enthusiastic students that prepared a divers program for you! We will introduce them for you:
Paul Niemöller: Paul is the Chairman of this beautiful committee. With his haircut, he is a look a like of Marc Zuckerberg. Fortunately, Paul is smarter than Marc.
Sophie Pulles: Sophie is the one and only lady in our committee. This powergirl will make your days even more beautiful with her smile and enthousiasm!
Nino de Kip: Nino is a cheerful guy who is a member of almost every study association within the Bèta Faculty on the VU. 'Borrelhopping' is one of his hobbies.
Koen Nelissen: This man with his beautiful red hair is a person you definitely want to have in your committee. Koen has a big network and if there is a problem, Koen always knows a solution.
Derk-Jan Post: This tall guy always smiles. As the Chairman of Gyrinus, he has a lot of experience and together with his humor, he will light up every party!
Diederick Zandvoort: This handsome guy has a passion in airsoft. Just as Koen, Diederick has a lot of experience and therefore definitely someone you want to have in your committee.
We are looking forward to meeting you and have two great days with you!