Akash & Sanne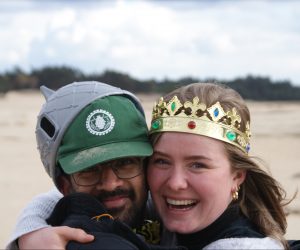 It was in her gap year that Sanne decided to travel through Asia. At one point, when she was going through a dense part in the jungle in India, she found an ancient temple. In front of that temple sat a boy. Sanne shouted to the boy. He stood up and started dancing with Sanne. Immediately Sanne fell in love with the boy, named Akash. She took him with her to The Netherlands and introduced him in typical Dutch stuff like Moffel&Piertje, de Gieter or the Kopstoot Bar and of course Budels. They both really love each other, but next to that they already really love their intro week kids!
Bram & Sara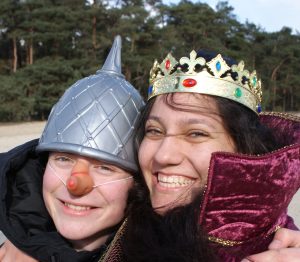 Sara is the oriental beauty of Bram. Bram is an original Dutch farm boy who is afraid of Arabic food. Luckily Sara has a positive influence at him and is he always in for trying new stuff. Bram isn't afraid of any bumps during the intro week, he survived transferring at Almere, so there are no difficulties for him. Sara would pick her lovely dog over Bram, but during intro they will be a wonderful team!
Jelle & Puck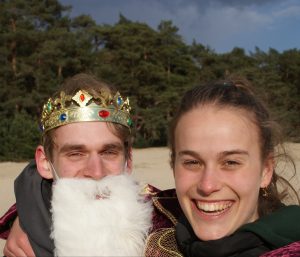 Puck was on a cruise with her fiancée. She wasn't too enthusiastic about him. Luckily there was a searing single named Jelle. They fell immediately in love and have been partners ever since. Jelle does not like animals perse, but Biology students are his faves. The fun part of Puck is that she knows the lyrics of almost every song and loves to watch tv-series with her partner Jelle. The fun part about being the kid of Jelle and Puck is that they are really happy together and always have a smile on their face. Pujel is looking forward to all the happy kids in the end of August!
Joram & Dagmar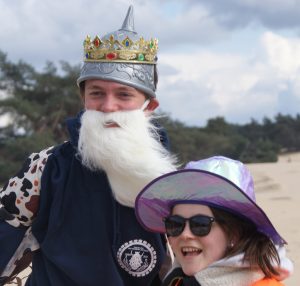 Dagmar and Joram are our giant and the imp. Dagmar's 1 meter 20 is luckily compensated by a strong, but loving personality. Joram is sometimes overwhelmed by her, despite his 3 meter 80. He will never let her down, except when she says he is a long lank. He is physical attracted to her, but going together to the sixth floor is a little too much for them; a hug during every 'borrel' is a necessity. They'll both be fun parents, who will make all their kids feel at home in Amsterdam!
Maarten & Mirte
Also for our southern students we have a couple: Maarten and Mirte. The Zealandish Maarten and the Limburgish Mirte had problems understanding each other in the beginning. While Maarten was wearing his life jacket (as a true Zealander), which covered his mouth, Mirte was stuffing her face with 'vlaai', which did not help understanding her southern accent. They are both really caring persons, but Maarten can also be quite authoritarian, which helps if he has to protect Mirte. Luckily Maarten and Mirte have some magical love to give to all their children.
Niels & Jos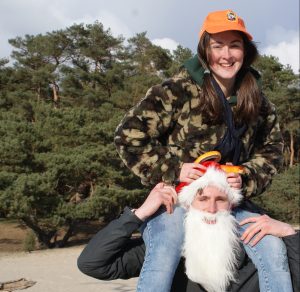 Jos and Niels are now in love for a few years. Jos fell for his sweet attitude towards her, he said that she was wearing a cute dress. Niels isn't so profound. He just fell for her looks. Sadly he cheated on her with their relation therapist. Jos did not like that, Jos did. Niels is a nice, laidback second year student Biomedical Sciences who is the perfect counterpart for his Jos,  an energetic, sweet third year student BMS. They are really looking forward to mentoring all their kids during the introduction days!
Phil & Eline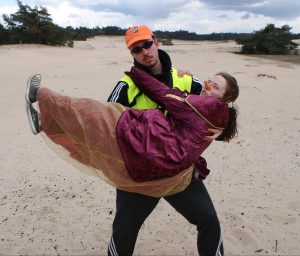 The always happy Eline couldn't find love in Holland, so looked over the border and found the laid-back Phil within our eastern neighbours. Now that they are married, the relationship troubles have started, such as Eline decides everything. Luckily Phil can handle this. If you lose Phil during the intro week, he's probably looking at photos of Helene Fischer, because Heidi is too old for him. Phil likes to see Eline as a bird, the most beautiful bird he has ever seen, unless she sits in an Uber in the middle of the night…
Silke & Maxim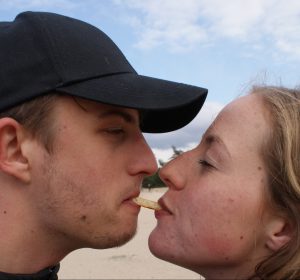 Silke Petronella van Buuren fell for Maxim, because he is quite good in making cocktails. They have are deeply in love with each other, even though Silke hates the pubic hair of Maxim, which he calls a beard. Silke will be the party mummy of all her kids, when Maxim is fixing all the serious business, which Silke is grateful for towards him. Maxim is looking forward to the introweek with Silke, because a complete week with her and all their pretty kids is his big dream.
Thomas & Lieke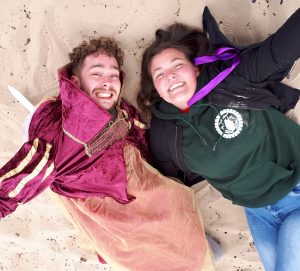 Thomas is the perfect wife for Lieke, this year he even knew her name! When they're dating, they're just chilling. If that's due to the planning skills of Thomas, is uncertain, Lieke has faith in Thomas's capabilities during the intro week. The answer to the question they have physical attraction towards each other, gave a long pause "shall we keep it professional?". Says enough. Thomas fell for Lieke's sweet character. Probably all her children we do as well, when they haven't fallen for the southern accent of Thomas (if they understand him).
2 DAY MENTORS
Elise & Laura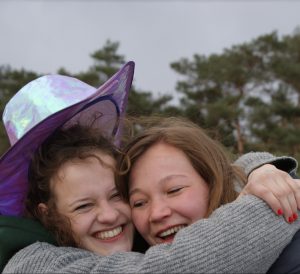 These two rebels have found each other in personality. At every party you will see this couple going crazy. Laura has a really positive vibe where Elise fell for, Laura fell for the nice clothes of Elise. They love cocktails and unlimited sushi when they're together, but when one of their kids offers them cheese (and then especially with nachos) they'll be very happy! With these lovely energetic mums all their kids are really lucky!
Tom & Malissa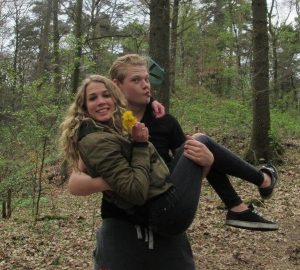 Our Big Friendly Giant Tom is reunited with the blonde beauty Malissa. After being separated for two years this Bert and Ernie are back together. Malissa did, in itself, quite liked being with Tom so she would give it another go. A tip for all their kids: if you lost your mommy and daddy, follow the loud screaming with an accent and you'll be back to them! Luckily you won't leave Malissa, because you've probably already drowned in her eyes and you'll stick to them forever. So has Tom, because Malissa has a good influence at him by tempering his loudness.
Victor & Wija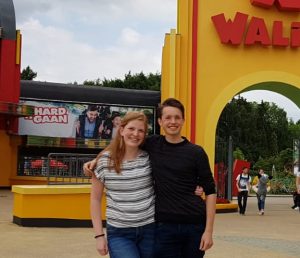 Wija has found Victor as the love of her life. When Victor was eating at Julias at Amsterdam Station he looked out the window and saw the beautiful Wija drinking coffee in the Starbucks and he was starstruck. The way Victor looks like a Walibi is the thing Wija loves the most in Victor next to that he is a good listener. Victor is more a body type and fell for the beautiful nails of Wija. Victor can be quite timid to girls he likes, so when he isn't talking to you, he might be liking you, so watch out! Wija is the strong personality in this couple, so listen good to her.
Yael & Mats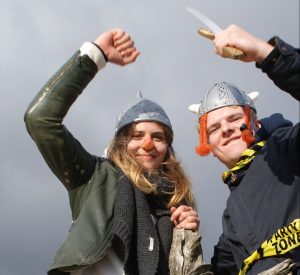 Mats, the screaming baby of our introduction week, is the love of Yael's life. They fell in love with each other during last years intro week and have been inseparable ever since. They think that Mats will be the fun parents, whilst Yael will be the caring of this beautiful couple. Mats and Yael love to eat broccoli together, because they wouldn't eat each other. They have one warming for their kids, your daddy may look like another kid, but he can be responsible from time to time.