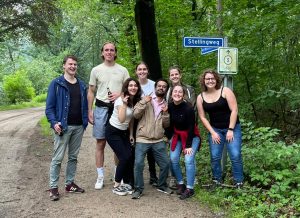 Your introductionweek is not complete without introduction camp. This is why, following the VU introduction days we, study association Gyrinus natans, are organizing three fun filled days in which you get the chance to get to know your fellow students even better and of course get to know our beautiful association and what we have to offer you.
So what can you expect?                                                                                     8 Enthusiastic Gyrinus members have committed themselves to fill these three days (1-2-3 Sept) with loads of activities and games which are meant for you guys to get to know each other and form new friendships. Our cooking squad will be providing delicious breakfasts and diners and our barteam will be at your service 24/7 to serve you beer and wine (and soda of course), which comes in handy because our Technical committee and mentors will be at the turntables playing music day and night.
And obviously with music comes a party and one evening this party will have a fun theme: Rubik's cube. The rules of the party: you start with clothes and accessories in all different colors and by the end of the night your rubik's cube has to be completed: all your clothes/accessories will have to be in one color. So how do I do that? Easy, by swapping your clothes with other people. We can't wait to see which one of you will be best in getting people to take of their clothes (and put yours on) for you. So gather as many colorful clothes and items (Be aware you might lose them so maybe just buy something cheap) and join us as a colorful rubik's cube.
Another fun evening will be the open mic night, so think about a nice act you and your friends can perform!
Where we are going and what exactly we will be doing will remain a secret for now but we will promise you one thing: it will be a camp you will never forget.
Excited? Soon you will all receive a mail from us containing a sign up link so you can sign up for this wonderful camp! And hurry because there are limited spots.
To help the people who are joining us on camp we made a packing list.
– Enough clothes for hot weather, for cold weather, for rainy weather
– Clothes and shoes that you don't mind getting dirty
– Underwear
– Umbrella
– Swimwear
– Sportswear
– Rain gear
– Colorful clothes for Rubik's cube party
– Toiletries
– Shower supplies
– Sleeping bag
– Pillow
– A sheet for your bed
– Towels
– A plate, a cup, a mug and cutleries
– Dishcloth
– Flashlight
– Should you have an amazing idea for the open mic night than you can also already bring some stuff you could use!
– Everything that you might think has an added value to this camp. Think about your fantastic beer cap collection that already contains eighteen different beer caps, a huge bottle of Bonomel of no less than one liter or a stapler with no more and no less than 7.3 staples.
However, these are all just ideas..
Very important: drugs and liquor are not allowed at the camp!
If you want a little impression of how much fun it is to join the camp, you can scroll down!