Our Introduction Week will not only take place in Amsterdam: If you want (and believe us, you do), you can join us Wednesday the 28th of August on an adventure. The Introduction of Biomedical Sciences and Biology will host a camp, aimed at the first-year students. Any experienced student will tell you that this camp is truly the best part of the introduction week: like the icing on an already delicious cake.
Not unlike a five-star hotel, everything will be arranged. Our Cooking-crew will serve delicious meals and our 'Bar-Crew' will ensure you don't dehydrate. The rest of our team will provide the necessary entertainment, to make sure you won't get bored.
On Wednesday, around noon, we will travel per bus to an undisclosed location. During this bus-trip you can listen to the interesting stories of the mentors, or you can use this opportunity to take a much-needed nap, we won't blame you.
Now, we can already hear you thinking "Will we attend boring lectures and participate in group assignments during this camp 'for biomedical and biology student'?" Well… no!
We cannot however tell you about the details of this camp yet, that would spoil the fun. Fortunately we can wholeheartedly tell you that it's going to be a lot of fun. It's great, trust us. Just think about your mentor 'parents' in wild outfits and a beautiful location to relax. But above all: Different activities aimed at getting to know your fellow student. And no: not those boring games we all know from secondary school. As a grand finale, there will be a party at the end of each day; the closing time will be determined by the DJ's and all the dancing students. Of course, you can also take a nap, if you so desire.
We won't tell you more, but here is a picture to give you a general idea.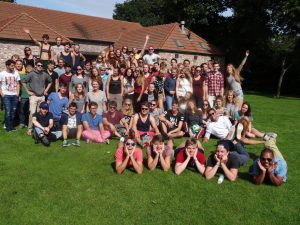 On Friday we will return to Amsterdam. At that moment, there won't be a single student wishing the camp and the introduction week have come to an end.  
You can sign up for this 'weekend' when you book your ticket for the introduction week. The price will be 45 euros, and the ticket can be booked simultaneously with the regular ticket. If there are some tickets left at the first day of the introduction week it is also possible to buy a ticket then. Bear in mind: There are limited spots!